Welcome to Van Dyne Upholstery
We Make It New For You!
Congratulations on your upholstery makeover decision! You have come to the right place! With more than 75 years combined experience in our shop, we take pride in our ability to offer that expertise and detailed-eye to every project that enters our doors.
Professional Upholstery Every Day
We offer a wide range of services with boundless limits and ensure that your project is completed to our extensive quality standards, and the expectations you have in mind.

Visit and bookmark Our Portfolio as we continue to add new project images!
With such a large variety of design options, choosing the color and pattern that's just right for your upholstery project can be a daunting task.

Brittany and Brenda, our Design Consultants, are here to help. Their experience enables them to help you make selections to fit your style and budget for the pieces you are working with.

Call our Sales office today at (920) 688-2838 to schedule a free consultation or to check on the status of a current upholstery project.

We look forward to working with you!
Stunning Handcrafted Boat Covers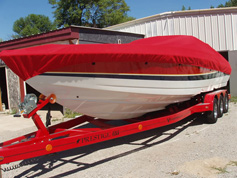 Our upholstery work sails the clear blue from the Boundary Waters to the Gulf of Mexico. It withstands the test of time and we are proud to continue our legacy of professionally crafted boat covers, cushions, carpets, and biminis.

Our dedicated staff is experienced at providing the highest quality service and support for your project.

Let our upholstery team work with you to create a stunning boat cover, and give your boat that NEW look it has been craving all year! We will make your boat pop!
Have questions? Call us at (920) 688-2838.
See more furniture and boat projects in Our Portfolio.
Join our mailing list to receive news on seasonal specials and discounts.